Business car inground lift series L7800
Product Detail
Product Tags
LUXMAIN Business car inground lift has formed a series of standard products and non-standard customized products. Mainly applicable to passenger cars and trucks. The main forms of lifting of trucks and trucks are the front and rear split two-post type and the front and rear split four-post type. Using PLC control, it can also use a combination of hydraulic synchronization + rigid synchronization.
The equipment is designed as a two-column front and rear split type. One of the lifting columns can move forward and backward. It is equipped with a load-bearing aluminum alloy follow-up chain plate, which can instantly cover the ground grooves. The ground is safe and beautiful, and it can withstand personnel or vehicles being lifted. Vehicles of the same type pass safely through the chain plates.
The equipment adopts PLC control and hydraulically drives the lifting post to move back and forth, real-time identification of revised data, to ensure that the two lifting posts are kept in real time synchronization. At the same time, equipment failures will also be displayed immediately, reminding the operator to adjust and maintain.
The device can be controlled in two modes, touch screen and remote control handle.
When it is necessary to align the lifting point, the remote control handle must be used for close visual control, which is more accurate and safer. The vehicle enters the lifting station and ensures that the lifting point is aligned with the fixed column of the lift. Press the remote control handle. "Move forward" or "Move back" key to adjust the position of the moving column and align with the lifting point on the other end of the vehicle. Adjust the two lifting columns step by step to rise first and then, close to the lifting points of the vehicle respectively, and then operate the "up" button to lift the vehicle up.
The equipment is equipped with an external mechanical lock system, which can visually confirm that the equipment is locked or unlocked. The mechanical lock lever also serves as an auxiliary support to ensure the safety and stability of the equipment.
The hydraulic throttling device is equipped in the cylinder, which not only guarantees a faster ascent speed within the maximum lifting weight set by the equipment, but also ensures that the lift will slowly descend to avoid extreme conditions such as mechanical lock failure or tubing burst result in a safety accident was caused by a sudden and rapid fall.
Suitable for different models of 8-12 meters long vehicle.
| | |
| --- | --- |
| Max. Lifting capacity | 16000kg |
| Load unevenness | maximum 6:2 (ithe front and rear directioof the vehicle) |
| Max. Lifting height | 1800mm |
| Mobile side host size | L2800mm x W1200mm x H1600mm |
| Fixed side host size | L1200mm x W1200mm x H1600mm |
| Lifting post spacing | Min. 4450mm, Max. 6050mm, steplessly adjustable |
| Full lifting (falling) time | 60-80s |
| Power voltage | AC380V/50 Hz |
| Motor power | 3 kw/3kw |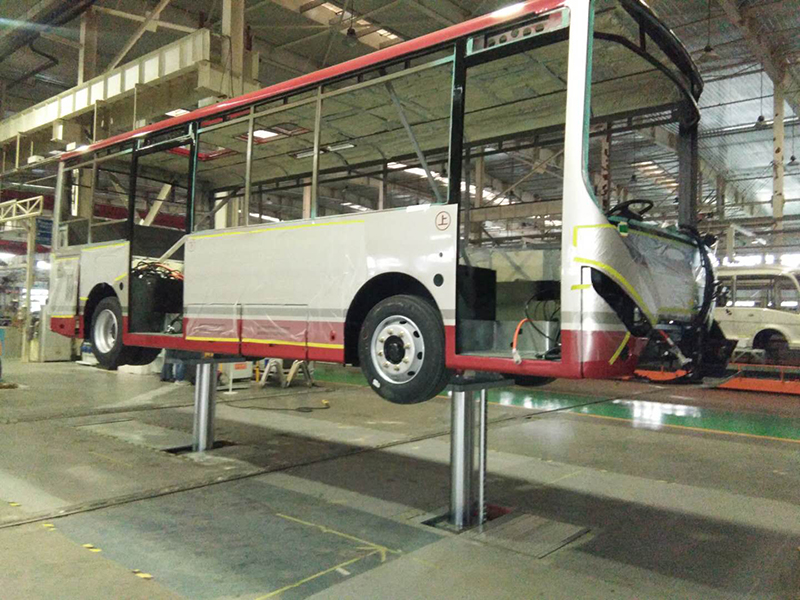 ---
---
Write your message here and send it to us